I thought Musha was inventive and I enjoyed the creative takes on the izakaya dishes, but the flavors were a little overwhelming for my palette.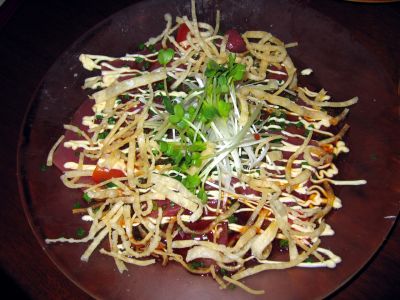 The four of us came in with a last minute reservation on a Friday night and were reseated after they had a large party come in for the communal table. The atmosphere here is very convivial and true to what a Japanese pub should be like, complete with pitchers of Asahi and the like.
It took us awhile to navigate the menu, which is written lyrically in jPop English. We managed to parse out ingredients and preparations and ordered way too much food between the three of us. I remembered asking our waiter, "Do you think that's enough food?" To which, he shakes his head in disapproval and scoffs "No." We laughed about it later, but he ended up suggesting that we order the tuna carpaccio (pictured above), which also happened to be the most expensive thing on our bill. It was okay at best.
The portions were generous, but the ambitious menu items often failed to meet our expectations. There was just too much going on in the dishes. The baked scallop baguette was overwhelmed so much by the melted cheese, that we couldnt even taste the scallops. Hell, we could hardly even see them (pictured, right). The yaki udon was nothing more than a simple stir-fry dish.
And the waiter's scoff? We ended up with way too much food for the three of us. All in all, I would come back because I liked the vibe of the restaurant, the food was decent, and the menu, large enough that there was room for exploration.
* Photos courtesy of
Sheepathon
Musha
1725 W Carson St Ste B
Torrance, CA 90501
(310) 787-7344