Katsu-ya is tiny and even after arriving 15 minutes early for our 6pm reservations, we had to wait another hour. But let me tell you what, it was worth it.
Only 45 minutes after it was open, there was already a crowd outside the door of the strip mall restaurant. We opened the door only to find another mob, which we had to carefully navigate in order to make our way to the hostess.
We were lucky enough to get a same-day reservation and saw our names scrawled on a whiteboard behind the hostess' podium. It occurred to me that it would be very easy to just take a gander at the board and claim a table that wasnt yours, but I suppose they've been at the business long enough to know that they system works.
The moment our table was ready, we were shuffled into the dining room and brought a whiteboard of specials from which we were supposed to order. I recall a table next to us asking for the dinner menu and scoffing at their selections of terriyaki and tempura when there was a myriad of more interesting specials on their daily menu.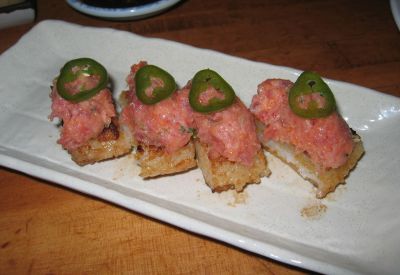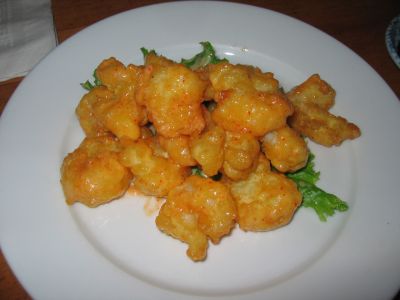 Dont miss the
creamy rock shrimp tempura
and tuna on crispy rice. If you're looking for something closer to the OC, Ikko in Costa Mesa also makes an amazing rock shrimp tempura salad.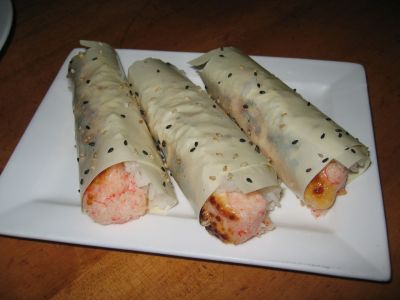 We ordered some yellowtail and found it pretty fresh and well marinated. The honey handroll was lackluster and we've had better blue crab handrolls at Sushi Wasabi in Tustin. Next time, we'll have to peruse the raw offerings some more.
Overall, we found the flavors to beinteresting without being overwhelming, though the menu can be intimidating. When you eat out as much as I do, intimidating becomes code for potential to impress. I would come here once if a week if it weren't for the hour-long drive.
Katsu-ya has a few other locations around LA, but this one's the original. There's a pretty fancy outpost at Brentwood if you're looking for more of scene.
Katsu-Ya
11680 Ventura Blvd.
Studio City,CA 91604

(818) 985-6976