January 1, 2007
A photo montage of my most recent meal at Sushi Ran--a fabulous way to kick off 2008.
Cooked Food Selection
Ahi, calamari tentacles, and maitake mushrooms.
In general, mushroom dishes tend to be stellar at Japanese restaurants--Sushi Ran is no exception.
Raw Selection
Omakase Nigiri ($28 for seven pieces) and Omakase Sashimi ($29 for 10 pieces)
Order
either
the Omakase Nigiri
or
Sashimi, but not both, since there are repeats across the selections.
Desserts
Chocolate Bombe with Hazelnut Creme Anglaise and Bananas Foster.
I've exhausted the dessert list at Sushi Ran and can vouch for the Trio of Custards in addition to the two shown above.
---
December 26, 2006
I've been to Sushi Ran enough times now to have exhausted the menu, ordering nearly everything off both the sushi and cooked menus. The restaurant is housed in two separate buildings, though I would sitting on the side with the sushi bar, but only because there are more windows to let in sunlight. Though the restaurant opens at 5:30pm, if you come in half an hour later without a reservation, you're likely to be denied a table. Being on the other side of the Golden Gate Bridge doesn't mean the restaurant is any less busy than those in
SF's
downtown.
Our most recent dinner here celebrated the end of a short weekend trip to the Bay. We were seated at a table on the sunny-side of the restaurant and we pored over the menu hoping to find something that I hadn't yet tried. There are often specials chalked in on a board posted by the sushi bar, but
dont
be deceived as many of these dishes are featured in the regular menu as well.
We started with the grilled calamari, scallop and chive dumplings, and trumpet mushrooms. Rather safe choices, you say? I think not. The grilling really brings out a deep smokiness in the calamari and the chewiness of the jerky-like texture really make for a very unique dish. The dumplings are a stand-by of mine for their smooth, delicate skins, though I have found the soy sauce consistently salty.
Dont
miss either of the cooked mushroom offerings, though my favorite of the two is the trumpet mushrooms with
sunchoke
puree (pictured). I have ordered the vegetable tasting [
bok
choy
in garlic chili sauce, eggplant, wax beans in green curry, asparagus] on one occasion and found it too robust. There was nothing to tie the dish together as a whole and I found the the savory, sweet, and sour flavors too disparate for my palette. The eggplant and
bok
choy
went beyond having strong flavors--they were just plain salty.
On that note, I should forewarn you that Sushi
Ran's
cooked food tends to draw influences from other parts of Asia, which means that the flavors are less muted than what you'd find in traditional Japanese cuisine. On previous visits, I've ordered the
caramelized
shrimp,
miso
cod, glazed
butterfish
,
yellowtail
cheek, and shaking beef. The fishes are outstanding and incredibly fresh and if you thought all
miso
cods were created equal, give this one a try before you make up your mind. Also,
dont
forget to order a bowl of rice for the shrimp and beef because while the dishes are good, they are borderline salt overload.
Now we're getting to the good stuff.
Zagat
rated Sushi Ran #1 for food in the Bay Area and the credit for that accolade goes to none other than the sushi. A requisite of every meal at Sushi Ran is the
Omakase
Sashimi
plate ($30) which comes with five pairs of some of the freshest
sashimi
that you'll find in California. I suggest you get them to slow down when they're explaining what everything is to you because chances are, you've never heard of half the things on that plate. The highlight of this particular outing were the baby eels marinated in a soy sauce as seen in the sake cups on the plates. We weren't quite sure what were slurping up at first, but soon saw the eyeballs and figured it out for yourselves. But eyeballs aside, the eels went down smoothly and without complaint from even our pickiest eater at the table. On a previous visit, we even found the normally too-strong-for-our-taste-buds
saba
to be delectable.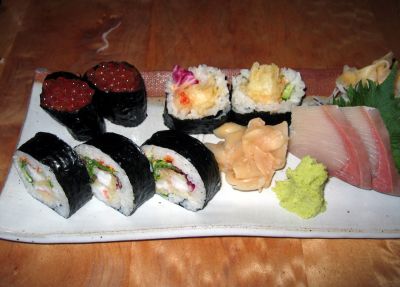 But what do we know about all these types of fish that we've only heard of for the first time at Sushi Ran? That's why we ordered some
hamachi
for a benchmark and yes, it was the best
hamachi
we've ever had. On the plate you also see
ikura
and a
futomaki
roll and I'd highly recommend the salmon citrus roll though it's not pictured. Sushi Ran also offers an
omakase
roll, though it would really be a waste unless you ordered it while sitting at the sushi bar. The sushi here is about the pristine quality and integrity of the fish, so
dont
expect to find too many outrageous
maki
rolls.
If you thought it ended there, then you're pretty foolish because their desserts rock my world so much, that we often end up ordering twice as what we normally would. The bananas foster are delectable and sweet without giving you a toothache while the ginger ice cream they're served with bring complexity with the spicy undertones. The sorbets are crisp and refreshing while the trio of creme
brulees
were gone before we knew it. The hazelnut chocolate
bombe
is also, well, bomb. I was less fond of the
marscapone
ice cream, which is less interesting than it sounds and the green tea bread pudding, which was a little too sweet.
With sake flowing, our meals at Sushi Ran may have never been cheap ($40 p.p. and up), but they've always been worth it.
* Photos courtesy of
Sheepathon
Sushi Ran
107 Caledonia Street
Sausalito, CA 94965
(415) 332-3620